Motorola DROID RAZR M hands-on
18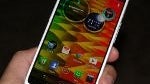 Without a doubt, the
Motorola DROID RAZR HD
and
DROID RAZR MAXX HD
took center stage at the Motorola-Verizon event that was held in the Big Apple, but interestingly enough, we ended up seeing a third device that's looking to make a name for itself. Honestly, who knows what the letter "M" might stand for, but one might argue it could be mini or miniscule – for the
Motorola DROID RAZR M
.
Seriously, don't let its
diminutive size
compared to its full figured siblings fool you! Above all, the biggest stand out that we notice with the smartphone, is the compact form factor it's sporting for a device packing along a 4.3" display. Why's that you ask? Well, we're fascinated by the
edge-to-edge, almost bezel-less
display! It might not be something that the average Joe might take notice as a significant thing, but nevertheless, it's a rare sighting on today's modern smartphones.
At the same time, the
4.3" qHD Super AMOLED display
of the DROID RAZR M has the eye-catching looks to pique our interests – mainly thanks to its wickedly vibrant color reproduction and wide viewing angles. However, it seems to be employing a PenTile matrix arrangement, which some people are not fans of seeing, but still, we find it decent enough to make out fine details. Ultimately, it's simply the impressive edge-to-edge display that makes the DROID RAZR M unique from its prestigious siblings.
Design-wise, it embodies most of the characteristic DROID RAZR elements we're accustomed of seeing – like its
sturdy construction and KEVLAR coated backing
. And like we mentioned earlier, it's amazingly compact in the hand for a device donning a 4.3" display. Under the hood, it's no slouch either, as it's running a
dual-core 1.5GHz processor
coupled with 1GB of RAM. Combined with the same customized Android 4.0 Ice Cream Sandwich experience we saw with the Motorola ATRIX HD, it runs impressively quick with most operations. Luckily, it's mentioned that the handset will be receiving its Jelly Bean upgrade before the end of the year.
Rounding things out, the Motorola DROID RAZR M features lightning fast 4G LTE connectivity courtesy of Verizon's expansive network, VGA front-facing camera, 8-megapixel auto-focus camera with LED flash, 1080p video recording, Gorilla Glass, and a still beefy
2,000 mAh battery
. Although its size has been toned down considerably, Moto didn't skimp out with the other aspects of the handset. Best of all, this baby is coming to market next week for the 2-year on-contract price of
$99.99
– with pre-orders available right now. Needless to say, the minimal wait time is great thing, especially when all the other devices unveiled today at both press events don't have any concrete release dates or prices attached to them.