Motorola DROID Bionic makes appearance in Best Buy ad
28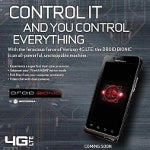 A leaked photo of an ad for Best Buy apparently is showing off the
re-designed Motorola DROID Bionic
. As we
reported
, Verizon's first dual-core LTE model is expected to launch on August 4th. Unfortunately, the ad doesn't confirm the launch date or reveal a clue about pricing. The phrase "Coming Soon" is placed under the picture of the heavily anticipated phone.
at the CES
, Motorola pulled the original DROID Bionic and replaced it with a whole new model and a delayed launch. The specs of the device have been rumored to be all over the place. We
had told you
about a tweet from Motorola that called for a summer launch of the phone and pictures, possibly of the Motorola DROID Bionic,
were leaked
near the end of last month.
Now that we have this leaked ad for the Motorola DROID Bionic, an
early August launch
of the handset seems to make sense. And if that timeframe is correct, it shouldn't be too long until we get the official word from Motorola along with alist of the specs that everyone is dying to see. The ad mentions the dual-core processor under the hood, the HDMI mirroring capabilities, the ability to wirelessly pull files from your computer, and the front-facing camera's ability to support video chat.
So will it be the Motorola DROID 3 or the Motorola DROID Bionic? The latter is 4G enabled and the former isn't. The former has a physical QWERTY and a 4 inch screen while the latter has no physical QWERTY and a screen no smaller than 4.3 inches. Does the
look of the device
in the ad change your mind one way or the other?
source:
Thisismynext
via
Gizmodo