Motorola DROID BIONIC Vehicle Navigation Dock Hands-on
5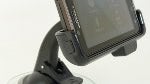 Do you plan on traveling in the car a lot with your brand spanking new
Motorola DROID BIONIC
? Well folks, you might want to consider picking up the
Vehicle Navigation Dock
for the highly prized smartphone as a complementary gift to yourself since it offers a lot of ease in getting to your destination without being distracted by other things.
First and foremost, it's worth noting that the Vehicle Navigation Dock
does not
increase or enhance the smartphone's GPS signal strength – but rather, it's nothing more than your typical suction style accessory for your vehicle. Luckily, that suction is pretty strong and requires a good amount of force to remove – even when it's loosened a bit by unclasping the latch. In addition, you can rotate the dock to the angle that's most optimal to your viewing pleasure.
Once the handset is in position, it automatically launches the dedicated navigation interface powered by Google Maps Navigation. Naturally, the nice thing about it all is that it sports some very
finger-friendly icons
that make it super convenient to peruse the interface. Besides the normal set of navigation-oriented functionality, we're also able to access some of the phone's core functions – like our contacts list, phone dialer, and music player.
For
$39.99
, it might not be too bad of an investment considering the kind of functionality it brings to the table – well, it beats having to fumble around through the usual Android menus.