Motorola DROID BIONIC Standard Dock Hands-on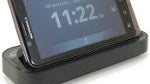 Quickly glancing at it, the
Standard Dock
for the
Motorola DROID BIONIC
shares some similarities with the
HD Station Dock
, but rather than offering the Webtop experience, it's simply confined to being nothing more than an ordinary charging dock. Well, that might not be all terrible news for some people since it's able to charge the smartphone in style – while offering some additional productivity functionality as well.
The all-plastic Standard Dock is able to position the Motorola DROID BIONIC at a slight angle as it sits within the cradle. In addition, there is an
audio-out port
in the rear that allows you to connect your own pair of speakers to it – thus, turning it into some sort of mini multimedia center. So what's good about the Standard Dock besides the fact that it holds the beloved handset and charges it? Well, it features this neat
Smart Mode
that essentially transforms the handset into a bedside alarm clock or productivity assistant.
Taking into account its
$49.99
price point, it'll make you think long and hard about choosing the $99.99 HD Station Dock instead since it offers the unique Webtop experience. However, if that's not something that matters to you, then the Standard Dock should at least make a nice bedside alarm clock or office piece at work.