Motorola DROID 2 is leaked - images and video in tow
This article contains unofficial information.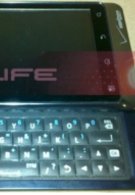 The
Motorola Droid Xtreme
has been taking up a decent amount of airwaves seeing that we've seen a good amount of leaked material regarding it – not to mention some nice looking images too. However, we've been able to get a very small snippet of what to expect for the successor to Verizon's most popular Android handset to date as we saw the
activation screen of the DROID 2
. Now we are being introduced to the handset itself and much more as Droid Life managed to get their hands on some juicy images, a video, and specs sheet on the handset.
Depending on how you soak it all in, it could be garnered as a compelling device or simply just your usual successor. Design wise, the most notable overhaul can be found on the QWERTY keyboard where the directional pad is now gone and the buttons are a bit more bubbled to provide better distinction between keys. At the same time, it surely is a bit more spacious now that the d-pad has been removed, but we know that gamers are probably a bit bummed by that. Other than that, it looks to retain most of the design elements seen by its predecessor. When it comes down to its internals, the Motorola DROID 2 looks to be packing on a 3.7" touchscreen, 750MHz OMAP processor, 8GB of internal storage, and a 5-megapixel camera with flash. However, it should be noted that it's missing an HDMI out port and a front-facing camera – as those two have become popular of late.
It's also being reported that the handset will be running Android
2.1
(for now), new version of MOTOBLUR, and should have Wi-Fi tethering from the onset – it's not clear if the latter will be offered as part of Eclair. No word yet on a release date for the handset, but it's being pegged for a Q3 release and that Verizon employees are going through training sessions for the smartphone starting on June 23. If there is one thing going for the Motorola DROID 2, it has to be brand recognition seeing that it has plenty of penetration already with Verizon's marketing.
Motorola DROID 2 A955 Specifications
source:
Droid Life
via
Gizmodo