Moto Z is now official: thin, powerful, with snap-on modules for added awesomeness
38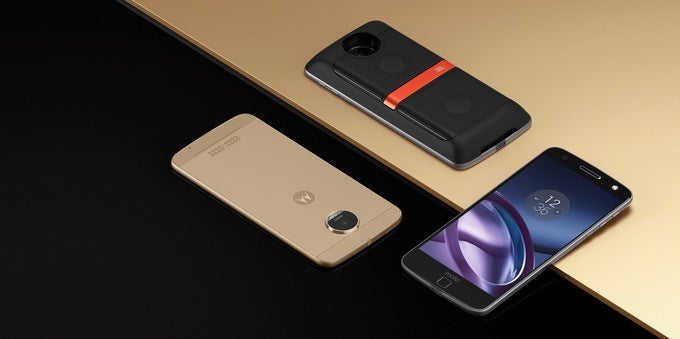 Oh, what an exciting day this is! After weeks of leaks, speculation, and plain ol' guessing, we've finally witnessed the official announcement of the Moto Z. A 2016
reincarnation of the RAZR V3 flip phone
this is not, mind you, but it is still a device worth being curious about. Trust us, you don't see phones like this every day.
ALSO READ
Introducing MotoMods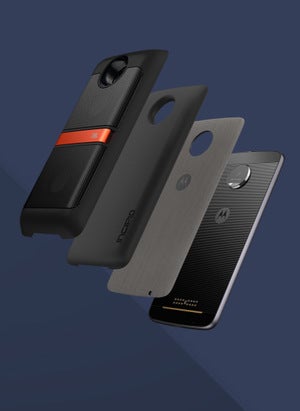 MotoMods are the Moto Z's killer feature
Without a doubt, MotoMods are the Moto Z's killer feature. The handset takes the whole modular smartphone concept to the next level by allowing a variety of snap-on modules to be attached to it at any time. Love big tunes? There's the JBL SoundBoost for you, with its built-in amp and stereo speakers. Feeling like watching a movie on a bigger screen? Just find a wall and snap on the InstaShare projector attachment, capable of throwing a 70-inch image on a suitable flat surface. Need extra battery life? Incipio has developed a battery pack adding 22 hour of extra usage time on top of what you'd get out of the phone's built-in 2600mAh cell.
To be clear, these modules are held to the device by magnets. Really strong magnets, as we're reassured. There's no need for the phone to be turned off whenever one is attached or detached.
Design and personalization
When it isn't augmented by a module, however, the Moto Z draws attention with its remarkably thin profile. In fact, it is the
"world's thinnest premium smartphone"
with a thickness of just a fifth of an inch (5.19 mm). As long as we don't throw that camera bulge into the equation, of course. On the downside, the thin profile might have something to do with the fact that a 3.5mm headphone jack is missing. Thankfully, a 3.5mm to USB-C headphone port adapter is included.
With its stylish, water-repelling metal construction, the phone is already quite the looker, but we're given the freedom to change its looks with StyleShells. To sum things up, these are snap-on covers for the back of the phone and they'll be available in many varieties, including ones made of natural wood, leather, or patterned fabric. These are going to replace the MotoMaker service, it seems.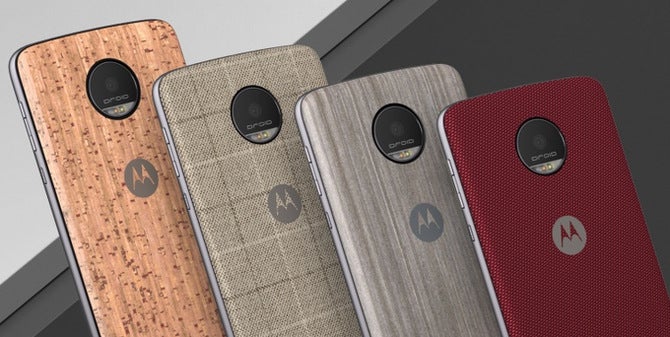 Hardware features and specs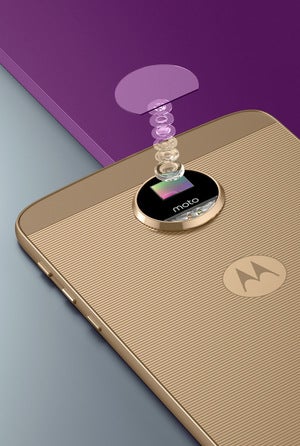 The 13MP camera is said to be the most advanced ever put on a Moto device
As far as specs go, the Moto Z has all the right ticks checked. We're talking a Snapdragon 820 paired with 4GB of RAM and 32/64 gigs of expandable storage. The 5.5-inch QHD display packs 535 pixels per inch, and the fingerprint scanner allows you to unlock your phone in no time. All in all, the Moto Z has "high-end" written all over it and should be capable of handling anything thrown at it.
We're no less excited about the photographic prowess of the Moto Z, as the phone packs the
"most advanced camera ever"
put on a Moto device. The sensor of choice has 13MP of resolution and 1.12um pixels, which doesn't seem all that great on paper, but isn't bad either. There's also OIS, laser-assisted autofocus, an ƒ/1.8 aperture lens providing plenty of light, 4K video support, and full manual controls for those who know how to take advantage of them. We're promised great low-light performance out of the shooter, but we'll see about that once we get our hands on a review unit.
At the front of the Moto Z we see a 5MP camera for selfies. What's cool is that a front-facing LED is also present for those times when light is insufficient. It's a neat and potentially useful addition adopted straight from the Moto X.
Software
Not much time was devoted to software during the handset's presentation. We know that the Moto Z runs Andorid 6.0.1 Marshmallow, and that's pretty much it. Still, it is safe to say that the phone will deliver a near-stock Android experience, with only minor tweaks here and there – the clock and weather widget, for example, or the enhanced camera application.
Availability
In the US. the Moto Z is going to launch as the Moto Z Droid Edition and will be available exclusively on Verizon. While we're not given a precise release date yet, we're told to look out for it this summer. MotoMods will be released at the same time. The phone will also be released unlocked in the fall for use with a carrier of your preference. Global availability is set for September of this year. Pricing details weren't made clear, but we're not expecting the phone to be cheap.