Motorola Moto Z Force hands-on
16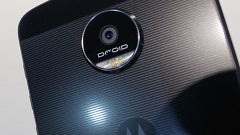 At Lenovo Tech World today, Motorola's parent company unveiled some impressive technology, and made some major announcements. Not least among them (albeit the very last thing announced), was the announcement of the new Motorola Moto Z series of smartphones. The new
Moto Z
, and
Moto Z Force
bring a new premium design language to the forefront, featuring more metal to the forefront, sharper edges, and flat panels across the back.
Design
Motorola has joined the rest of the gang in stepping up the game with a premium build quality for the new Moto Z line-up. Of the two, the Moto Z Force is the spec leader, with upgraded camera, bigger battery, shatter proof display, and presumably higher-price tag.
Both the dark gray and white/gold models are attractive, at the expense of being a fingerprint magnet. That does not take away from the apparent high-quality build of the device. The volume rocker and power/lock buttons are small, but easy to feel and have a good click to them. Overall, the Moto Z Force feels good in the hands.
On the front of the device, Motorola's sensors are abound for the gestures, and a small square finger print sensor. Unfortunately, the fingerprint sensor is not also a home button, as the interface uses Android's on-screen navigation soft-keys. USB-C connectivity is present, as expected.
Most notably missing from the Moto Z is a 3.5mm headphone jack. While there has been no shortage of conjecture about other OEMs giving up on the venerable headphone port, Motorola has quietly erased that piece from the Moto X. There will be an adapter available, but beyond that, we recommend you get used to one word: Bluetooth.
Display
There is a lot to love about AMOLED displays, like bright, vibrant colors. Motorola switched gears from the LCD panels used in last year's Moto X, and endowed the new Moto Z Style with a pretty looking 5.5-inch quad-HD AMOLED display.
True to form for displays of this type, the colors we saw on the display units looked nice and saturated, the viewing angles up to par with the rest of the field. The panel was also responsive to the touch, not yielding any latency.
To top it off, Motorola is continuing to push its Shattershield technology, with proclamations that the display will not break. Period. That is a tall claim, but there was no denying Motorola's confidence with this new breed of displays.
Cameras
The main camera on the Moto Z Force is a 21-megapixel sensor with optical image stabilization and laser-assisted autofocus. On paper, that is not a huge departure from previous Motorola smartphones, but the interface to use the camera has been nicely enhanced, with easy to identify shutter button, and on-screen brightness adjustment at the point of focus. It is intuitive and, on these pre-release units we had on-hand, was quick to take a picture. The front-facing camera is 5MP, and is accompanied by a front-facing flash.
Processor and memory
Under the snazzy new exterior, a Qualcomm Snapdragon 820 CPU hums along, managing the near-stock Motorola interface with no visible trouble whatsoever. On board, 64GB of non-expandable storage, and 4GB of RAM round out the package.
Interface and functionality
The interface is basically stock Android 6 Marshmallow, with some add-on Motorola apps, like the rounded clock widget. Motorola eliminated virtually all redundancy with many applications, Google Photos, Google Contacts, and Calendar are all there, and no Motorola duplication. There is a Motorola email app, but that is no surprise.
MotoMods
We will share more details about MotoMods in separate write-ups, but MotoMods is a far, far, better execution on modular accessories than what LG did for the G5 and its modular "Friends" achieved. With nothing to disassemble, no batteries to remove, the flat back plate of the Moto Z is a canvas for accessories – external speakers, projectors, monster batteries, and stylish covers from MotoMaker. There is a 16-pin connector at the bottom of the phone, and MotoMods accessories connect via four magnets positioned on the phone.
MotoMods snap in to place, no pairing, no connecting, just slap it on and go. It literally is that simple.
Pricing, release date, and expectations
No pricing or release dates were offered at Lenovo Tech World, but with flagships packing new goodies typically come flagship prices. The new Moto Z series will be a Verizon exclusive in the US at launch this summer, carrying on the Droid line-up for Big Red as the
Moto Z Droid Edition
and
Moto Z Force Droid Edition
. Later in the year, Motorola says that unlocked models will be available for sale through retailers like Best Buy
Carrier exclusives grind the gears, and if you are frustrated with that circumstance, you are certainly not alone. Verizon gets a head start with not only some impressive looking new smartphones from the iconic Motorola, it also ostensibly owns all the nifty MotoMod accessory sales during that period as well.
Recommended Stories