Moto X Pure Edition already (mostly) sold out at Best Buy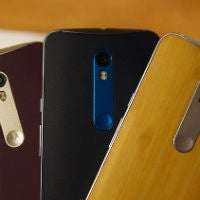 The Moto X has traditionally been a phone that was critically well-received and liked by those who had one, but not necessarily a big seller in the way that you'd expect in a flagship from a company like Samsung or LG. So, there are two different reasons why this news is what it is, but the fact still stands that the Moto X Pure Edition has (mostly) sold out through Best Buy.
The Moto X Pure just went on sale through the retailer yesterday, but the Best Buy website is already showing that the 32GB black and white coated silicon rubber (CSR) models and the 16GB and 32 GB models with the bamboo backing are all sold out. However, the least expensive model - the 16GB black CSR model for $399 - is still available for purchase, which leads us to believe this is likely due to limited stock provided by Motorola in order to gauge demand for the device.
Motorola knows that the Moto X has never been a huge seller, but it can be difficult to estimate demand for a device like this. It is definitely less expensive than other flagships, and the price difference between it and something like the
Samsung Galaxy Note5
is in the sweet spot where the performance benefits of the Note may not be worth the extra $300 in outright cost. But, users still don't tend to buy phones this expensive outright, and there is no monthly payment plan option for the Moto X Pure.
Maybe this will prove to Motorola that it can boost production, or maybe we're in for a classic Nintendo/Apple move of keeping stock tight and demand high until the holidays.