Moto E: is this the end of the feature phone?
63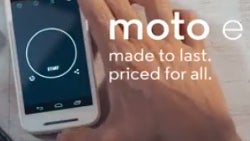 The
Motorola Moto E
is a special phone yet not for the usual reasons. It does not have a super-fast processor, ground-breaking camera, or a display so sharp that you wonder if your eyes are good enough for it. The Moto E is not great -
it's good at everything
, but at that, it's excellency comes from its price: $129 off-contract. Compare this to the typical $650 of high-end smartphones, and you'd realize you can get more than 5 Moto E smartphones for the less than the price of one high-end phone.
Motorola is well aware of the fact that the Moto E has a special price and plans to use this fact as a weapon to kill 'dumb' feature phones across the globe. While smartphone sales outgrew feature phone sales in 2013, did you know that in India, smartphone adoption stands at just 6%? And that's the world's second most populous nation!
With the Moto E, Motorola is launching a "Goodbye, flip phone" campaign in countries like India, with an emerging market, but not only India. The Moto E will also be sold in Motorola strongholds like the United Kingdom and the United States, as well as the Latin American market and Europe.
You can see Motorola's infographic explaining all the reasons why the Moto E is so great, but first we want to ask you:
can the Moto E be the lethal weapon to finally kill feature phones?
Let us know your thoughts below.