Moto 360 to be the first Android Wear device with an ambient light sensor
10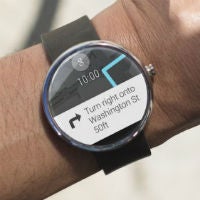 Motorola has been extremely tight-lipped when it comes to the Moto 360 smartwatch. We know what it'll look like; we know it runs Android Wear; it will have wireless charging; and, we know it'll be announced this summer. That's all the info that Motorola has given, until now. It turns out that the little black bar at the bottom of the display is carrying a sensor that no other Android Wear device contains.
It has been known since Google I/O that the black bar below the Moto 360 display contains the display drivers for the device, but apparently, Motorola actually outed a bit more info than that when it was showing off the device at Google I/O last month. Motorola's Cathay Bi actually told
TechCrunch's
Darrell Etherington that there will also be an ambient light sensor in that black bar (1:55 in the video below).
This is actually pretty interesting news, because no other Android Wear device has an ambient light sensor. This will allow the Moto 360 to automatically adjust the brightness of the display, depending on if you're inside or out. Given the usage of a smartwatch, it is a bit odd that the Moto 360 is the only device to have the sensor, but it obviously won't be the last.