Moto 360 Sport unboxing
13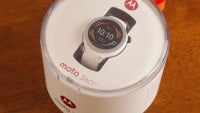 Another day, another Android Wear smartwatch. This time around, we're placing our attention towards Motorola once again, seeing that we just received its upcoming Moto 360 Sport. The smartwatch in question will be hitting the shores of the UK and France first, only to be released stateside later on in January for $299.99. As its name so happens to blatantly imply, it's geared specifically for individuals who have a passion for fitness – or those who take comfort in a sportier watch style.

Packaging is typical Motorola, following in the same manner as the second-generation Moto 360 with its circular shape. Up front and center, we have the Moto 360 Sport with a sticker over the display to tease what we're in for. Now, for those of us that are unaware about what makes this one different from the standard Moto 360 that the company has been selling, there's a listing on the side of the packaging that details some of its noteworthy qualities – while in the back, it lists the included goodies. Not surprisingly, they consist of the very same components that come with the standard Moto 360. Therefore, that includes the wall charger, wireless charging cradle, and documentation.

Going back to what makes the Moto 360 Sport unique, besides its obvious focus on fitness, it's one of the few Android Wear smartwatches to feature built-in GPS – to allow real-time tracking without you having to carry around your paired smartphone. Secondly, it has this fancy new AnyLight Display that's stipulated to offer superior visibility in both light and dark conditions.

Rounding things out, it has several similarities with the standard Moto 360 when it comes to the specs. Specifically, it has an almost-circular display (1.37 inches, 360 x 325 pixels), powered by a quad-core Snapdragon 400 processor, 512 MB of RAM, 4 GB of internal memory, and a 300 mAh battery. It's even IP-67 certified to ensure it's safeguarded against minor splashes – albeit, it's not meant to withstand full submersion. Visually, it caters to its intended audience with its sporty style, one that has a silicone strap, which unfortunately isn't swappable. It's available in three color choices: black, white, and flame orange.

And finally, there's the Android Wear experience. On the surface, it's going to be no different from any other Android Wear watch we've seen already, but there are enhancements, the watch faces and health-oriented apps specifically, that differentiate it from its sibling. Of course, we'll be putting it through the paces over the next few days to really get a good feel for it. Expect our review soon!