Most resolute: phones with the highest pixel density displays
48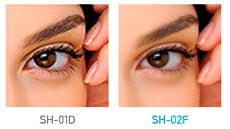 The pixels per inch metric went from obscure to one of the most talked about components of a smartphone display's quality the minute Apple called its
iPhone 4
panel Retina Display. It coined the term on account of the factoid that at 320ppi and more, the regular human vision can't discern the individual pixels from the viewing distance you normally hold such a phone. High pixel density makes text crystal clear, removes any icon jaggies, and improves the overall viewing experience.
We've had a rush for ever higher mobile display resolutions ever since, with the Android world quickly catching up, surpassing anything we've seen from any commercially available electronics so far. We are now even pushing to break the 4.7"-6.3" 1080p Full HD display barrier, and we aren't talking phablets only. LG already showcased its 5.5" 1440x2560 pixels panel, which immediately got bested by
Japan Display's 5.4" one
with the same Quad HD resolution. We are talking 538ppi and 543ppi densities, respectively, easily expecting to break the 500ppi barrier with flagship phones next year.
What about now, though? If the pixel density metric is important for you, we've rounded up some of the best pixel per inch panel counts announced or already lurking in the smartphone world, often going unnoticed amongst the other specs in the sheet. Some of the handpicked puppies in there will surprise you, so take a gander at the slideshow below.