Moshi Mythro Earbuds hands-on
4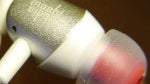 If you've read J.R.R. Tolkien's famous trilogy, the Lord of the Rings, then you're probably well versed in the history behind Mithril. Specifically, Tolkien mentioned that it was stronger than steel in the books, but significantly lighter in weight too – making it the perfect gear to wear in battles. Well, when it comes to the audio world, premium accessory maker
Moshi
has something along the lines with its
Mythro Earbuds
.
For what it's worth at
$30 a pop
, it won't be too much of a burden to your pockets, but even at a drastically lower price point than its previous offering in the
Moshi Audio Dulcia
, the Mythro Earbuds manages to deliver a
quality package
. However, it doesn't win much in the style department with its practical design – so yeah, it's very much earbuds-like. Despite that, as it pays homage to the mythical mithril armor, the Mythro Earbuds sport an
anodized aluminum casing
that helps to keep it super
lightweight
in the ear. Meaning, it's barely noticeable over prolonged usage. Packing along three different sized hybrid injection earbuds, they're all fairly comfortable and offer a snug fit in the air. Of course, you can use this for phone calls as well, in addition to listening to music, as it employs a microphone and multi-function button.
So what's the quality like? Well, if
heavy bass
is more your kind of thing, you won't be disappointed by the Moshi Mythro Earbuds. In fact, low bass tones
reverberate with a lot of vibrancy
– even at the loudest volume setting! At the same time, it doesn't crackle under the pressure at high volume levels with its DR8 Neodyium drivers (15Hz - 20kHz / -10dB@1kHz). Indeed, we appreciate the pounding tones it's able to fork out, but high tones can sometimes be drowned out. Regardless, if you're looking for something that's packing some punchy tones without paying a fortune, you should really take a gander at this. Heck, it's better than those under $10 earbuds you'd find at discount shops – and trust us, even at its price, it's still going to be a better experience.
source:
Moshi
More headphones to check out