Moshi Digits Touch Screen Gloves hands-on
11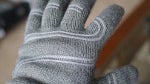 Even though we're in the last stretch of winter, it doesn't mean we should start whipping out the spring gear right now – especially when the temperatures around the country vary greatly week to week. Knowing that, we're still bundling up appropriately for the occasion, but for those of us living in places that are still being bombarded with frigid conditions, it's a battle trying to use our touchscreen devices outside in the cold.
Currently, we've been checking out the
Moshi's Digits Touch Screen Gloves
, which at
$30
a pair proves to be a worthy investment for those intent on constantly using their devices in these chilly conditions. First and foremost, we enjoy the
comfortable feel
of the Moshi Digits, seeing that it's lined with
soft microfleece
, which does a great job in
retaining heat
. However, it's far from being the most stylish pair of gloves out there. Then again, the mere fact that the Moshi Digits gives us the accuracy that's required to operate our touchscreen devices in the cold, we can't ask for anything better for the situation at hand.
So how is it that our touchscreen devices are able to recognize all of our presses and swipes? Well, the Moshi Digits is lined with
conducive fiber
on all 10 of its fingertips. Even better, we're thankful that accuracy isn't compromised one bit when using the gloves – even though we have a thick screen protector on our device. However, we wouldn't suggest trying to roll up some snowballs with the gloves. Keeping our hands warm and enabling us to interact with our touch screen devices, it's a win-win situation.
Other cool accessories to check out