More pictures of the Motorola Moto X (2015) leak, no fingerprint scanner present
13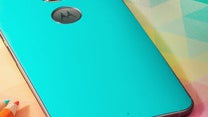 Today, the stream of Moto X (2015) leaks continues with a new set of images. First and foremost, the source of the latest leak claims that a fingerprint scanner won't be found on the device. It is said that previous leaks were showing an old engineering sample of the handset and that the production model won't have the aforementioned opening. The finalized version of the 2015-edition Motorola Moto X should look a lot more like the device seen in the first image below.
The same source is also presenting us with a photo of a mysterious Motorola handset's frame – the third image in the gallery below. While details are scarce, it is clear to see that the device is supposed to boast wireless charging capabilities. It is speculated that the phone could be a new Nexus model, but evidence in support of this claim is non-existent. In fact, the statement is in contradiction with previous rumors, claiming that Huawei and/or LG could build this year's Nexus device or devices.
And if that's not enough, we're also heading that a "Droid Mini" smartphone of some kind is in the works. The device is supposed to launch this year with Verizon. However, the source has not shared any images of it.
We apologize if this leak raises more questions about the Moto X 2015 than it answers. In any case, if we learn any further details about the upcoming smartphone, we'll pass them along ASAP. Until then, feel free to drop a line below and say whether you really want a fingerprint scanner in the next Motorola Moto X smartphone.