More photos of the Sony Ericsson Xperia SK17i Mango in the wild, sized up with the Xperia pro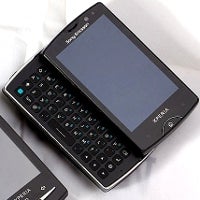 The tiny successor to the even tinier
Sony Ericsson Xperia X10 Mini Pro
(there we said it) - the
Xperia SK17i Mango
- has
leaked
for the nth time today. This time the Gingerbread-laden handset appears in better quality photos, and is sized next to all of its keyboarded Android brethren in the Sony Ericsson stable, including the
Xperia pro
.
The phone extends the miniature 2.55" display of the Xperia Mini Pro to 3", with 320x480 pixels of resolution, and is most likely powered by the same 1GHz Snapdragon chipset that is in most SE Android phones this year.
It's got a 5MP camera, which does HD video, but the sensor is most likely the one from the
Xperia Play
, rather than an Exmor R one, which comes in at least an 8MP package; the Xperia Play takes pretty good photos, though, so no biggie.
The fact that the
Sony Ericsson Xperia SK17i Mango
(which is probably an internal name anyway) comes with a full slide-out QWERTY keyboard is what sets it apart, and, if the Xperia Mini Pro is any indication, it should have a very good loudspeaker too. Have a look at the munchkin's design photo session below.
Thanks, Philip!
via
Mobile163