More photos of HTC's upcoming smartwatch have leaked
9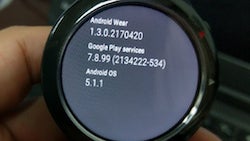 Back in October of 2016,
leaked images of an HTC smartwatch running Android Wear surfaced online
. The images showcased a smartwatch with Under Armour branding, a resolution of 360 x 360, a round face with no flat-tire, and more. The leaked images revealed that the smartwatch was codenamed as "Halfbeak", but since those photos surfaced a few months ago, there hasn't been any other talk about that smartwatch. That is, until now.
Even more pictures of HTC's Halfbeak smartwatch have been uploaded to Weibo (the Chinese social networking site where the photos were initially seen last October), and although the images don't necessarily reveal anything new about the smartwatch, they do provide us with a bit clearer idea of what to expect if and when this gadget is ever released. The back of the watch still features Under Armour and HTC branding, and a heart-rate sensor and 4-pin connector setup (likely for charging) are present here as well. The 360 x 360 resolution is still one of the sharper setups we've seen for an Android Wear watch, and the red and black sports band is very reminiscent to the same design language that was present in the wearable fitness tracker that came included with the HTC and Under Armour HealthBox.
The front of the Halfbeak smartwatch showcases a glossy bezel around the display, and two physical buttons are present on the right-hand side of the wearable. Perhaps the most interesting aspect about these newly leaked images is the fact that the Halfbeak is still running Android Wear version 1.3.
Android Wear 2.0 will be launching in early February
which is less than a month away at this point, and although it isn't present on the Halfbeak at this point in time, we'd expect HTC to update the smartwatch with the latest software prior to releasing it.
HTC hasn't officially commented on the Halfbeak at all, but with Mobile World Congress quickly approaching in late February, there is a chance that HTC could take advantage of the trade show to officially unveil their first Android Wear-powered smartwatch. A new wearable to go along with the company's recently announced U Play and U Ultra smartphones certainly wouldn't hurt, so it'll be interesting to wait and see what HTC's next steps are.