More DROID X 2 pics available, scheduled for Q2 Verizon release
13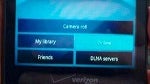 More pics of the upcoming successor of the
Motorola DROID X
are available, as well as some conflicting reports about its specs.
Three days ago
we told you
about the existence of the so-called Motorola DROID X 2 "Daytona", as well as some of its rumoured specifications, including the 4.3-inch screen with qHD resolution (540 x 960), the 1GHz dual-core Tegra processor and the 8MP camera.
Now, however, a tipster has told Engadget that this DROID X 2, a.k.a. DROID X "squared", is little more than a refreshed DROID X - it's claimed this handset will pack the same 4.3-inch screen with WVGA resolution, 1.2GHz single-core processor and 768MB of RAM.
Both sources say the same thing, though - it's set to grace the Verizon shelves in Q2 of 2011 and it won't support LTE.
source:
The Mobi Zone (cached)
and
Engadget