First images of the Motorola DROID X 2 "Daytona" appear
27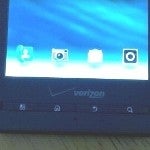 Even though the DROID BIONIC will be the next major release by Motorola for Verizon, it appears there will also be a Motorola DROID X 2, as well as a Motorola DROID 3 coming out later this year. Only a few bit of information has been leaked about these two devices, but rumor has it neither one will have support for Verizon's 4G LTE, as that will be the draw for the DROID BIONIC.
The
Motorola DROID X 2
is currently carrying the codename "Daytona" and is expected to be styled similar to the current DROID X, but will have some improvements, including a 4.3" qHD display and 1GHZ dual-core Tegra processor (like on the DROID BIONIC), a redesigned camera button on the side, though the camera is still 8MP, and a built-in gyroscope for better gaming. As you can see in the leaked pictures of the DROID X 2 that came out today, the device looks almost the same as the original DROID X with the four physical buttons on the front, though notice that the software UI has been changed to match that of the DROID BIONIC, but no word yet on which version of Android it is running. There is also expected to be a lot of different Docks for the DROID X 2 when it's released.
As far as the
Motorola DROID 3
, even less is know, but it is expected to have an even better QWERTY keyboard, and also the 1GHZ dual-core Tegra processor.
source: Howard Forums
1
&
2
, and
Twitter
(britishturbo)