Mogees turns everyday objects into musical instruments with a sensor and a smartphone
3
Those of you who have an ear for music probably know that tapping on non-musical objects and surfaces (pans, pots, walls, heaters, etc.) produces actual musical tones. There is music to be made with household items, and money to be made in technology, which (crudely) explains how Mogees came to be.
Mogees contains a gadget and a smartphone app. The gadget-y part contains a sensor that's placed on a surface and picks up the vibrations generated by interacting with it. They are analyzed and sent to the mobile app, which uses a "special sound technique" to make them sound musical. Running these vibrations through a synth or another sound-shaping algorithm results in literally infinite musical possibilities. As the project's Kickstarter page puts it, Mogees lets you "play the world".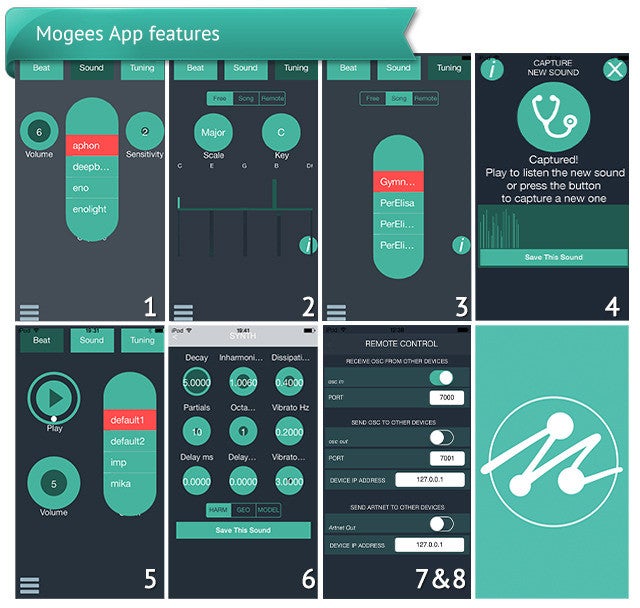 The Mogees app
The mobile app is a crucial part of the product and has a lot of functionality. It lets users assign sound presets to the different objects they "play". It has a "free" mode for improvising, which lets the user associate musical notes and timbres with specific gestures. The "song" mode lets the user load a MIDI file of a song and play over it, or re-interpret it with the unique sounds of everyday objects. The app supports importing and saving of audio files, of course, but its coolest property is the Capture function. It lets users capture the natural sound properties of objects and convert them to a sound preset. This way, they can apply sound properties from one object to another, which leads to crazy options – for example, playing a tree with the acoustic properties of a glass, or a bicycle with the properties of an ice cube. Your imagination is the limit. That, and not breaking public behavior laws by tapping on things to hear how they sound.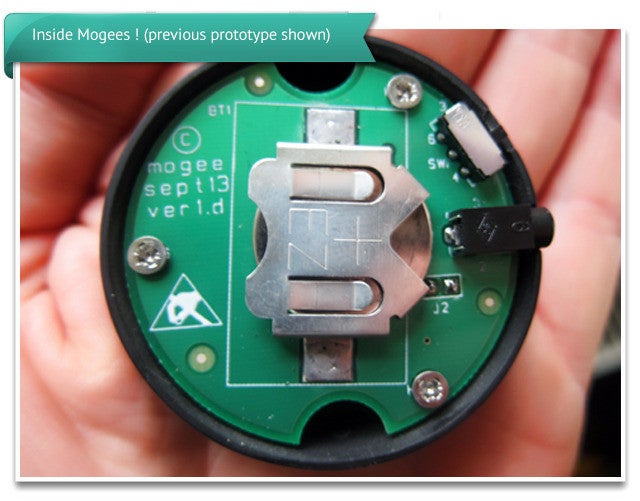 Inside the Mogees sensor
Luckily, Mogees isn't a piece of equipment that only established artists are privileged to. It has both consumer and professional variants, and the prices are modest for such an unique product. The Mogees classic package costs $65, and the Mogees Pro is worth $99. The difference is that the Pro version has tweaks for advanced audio parameters, supports synchronizing the performance with a computer, and remote controls for stage lights. Both versions will be available on Android and iOS, although audio latency problems in Google's operating system will delay the shipment of Mogees for Android. The project is being funded via Kickstarter and has a November 2014 delivery date.

Mogees is led by music technology researcher Bruno Zamborlin. With a joint PhD in Arts and Computer Science at the University of London and IRCAM-Centre Pompidou in Paris, he isn't some scraggly 20-something with an acoustic guitar. And the best demonstration of Mogees' potential isn't a lustrous Kickstarter pitch. It's this music video, a collaboration with British electronic pioneers Plaid, in which all sounds are created using Zamborlin and his team's invention.