Mobile usage skyrockets to the detriment of other media
1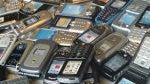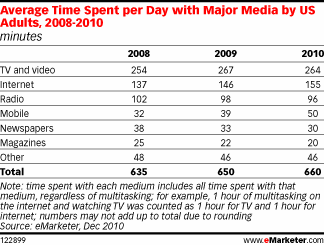 If you're perusing this website, then the following news will come as no surprise. A survey from eMarketer shows that
mobile usage
has now matched the combined amount of time spent reading newspapers and magazines. Their study shows that mobile usage has increased 28% in the last year to an average of 50 minutes per day.
Meanwhile, print media have suffered. Newspaper reading has decreased from 33 to 30 minutes per day in the last year, while magazine reading has decreased from 22 to 20 minutes per day. Print publishers have been keenly aware of this phenomenon, as both consumers and advertisers are flocking to digital media. Electronic publications like
'Project'
and
'The Daily'
represent a good step, but not all print publishers will survive the transition.
TV, Internet, and radio usage still greatly surpass mobile usage. But there are definitely downward trends for TV and radio. Radio listening has decreased from 98 to 96 minutes per day, and the almighty television has decreased from 267 to 264 minutes per day. We imagine that these reductions might be caused by the increasing popularity of mobile radio, and
streaming television
on the Web.
Our audience represents a biased sample of the population, so our results might be even more extreme. But we want to know, how much time do you spend reading print media? And has your mobile usage begun to replace your TV time?
source:
eMarketer
via
IntoMobile