Mobile VR is dead
This article may contain personal views and opinion from the author.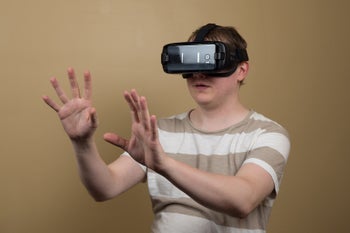 Just three years ago, at MWC 2016, thousands of the most influential tech journalists from all across the globe put on a pair of Samsung's Gear VR mobile virtual reality glasses to watch a visually stunning reveal of what was supposed to be the future of technology: VR powered by your phone!
A few minutes later, as the video ended, the crowds saw that while they were completely immersed in the virtual reality, Facebook's chief Mark Zuckerberg had appeared on stage to give a rare public appearance to promote mobile VR.
This was three years ago and then it almost seemed that everyone would soon be walking around with VR glasses powered by their phones on the streets. It did not turn out this way. In fact, within three years most of us have successfully forgotten about mobile VR. It is completely and utterly dead.
How did Samsung, Google and Facebook get it all so wrong?
How did tech giants like Samsung, Google and Facebook get mobile VR so wrong and how can they learn from this mistake?
First, though, let's make one important distinction: virtual reality itself is a concept that has its merits, especially when paired with serious developers that provide experiences that are immersive, engaging and visually impressive. Those are things that come together in devices like the HTC Vive or PlayStation VR, which people actually enjoy and use in real life. VR gaming is still a niche, but one that is quite interesting. Contrast this to VR powered by your phone in gadgets like the
Samsung Gear
VR, which is... quite dead. There is no good-quality content and users have collectively turned their back and successfully forgotten about that.
So why did mobile VR fail in the first place? It seemed to have everything: Samsung was giving away Gear VRs for free by the thousands, but even if you did not get a free one, you could purchase the glasses at a very affordable price. Facebook was on board, Google was on board and many other big names as well. The two missing ingredients: powerful enough hardware and quality game developers.
It's all about mobile games
Here is the thing: like it or not games are the most profitable class of applications out there. It is what's driving both the majority of users to app stores and subsequently what drives developers. Mobile VR never had any great games. There were many titles, but none the scale of say Fortnite or Pokemon Go, or anything that would truly make users wear those dorky glasses every single day. The reason for that might have been the weak software or quite simply, that the quality developers were all focused on getting the real VR games right for the true gaming platforms like the aforementioned Playstation VR.
And even if there were some really great games, it all goes against the very idea of mobile gaming which is built around the convenience of being able to play games on the go. A giant virtual reality headset with the added weight of a phone to it is not something that even the nerdiest geeks would wear in public, especially for a short time like that subway ride where phone gaming supposedly shines. There was something wrong at the conceptual stage of a mobile VR experience.
And if not games, would street view in virtual reality be able to convince anybody to buy a VR headset? I doubt that.
Add to that a terrible launch campaign where Mark Zuckerberg seemed to want to monetize on the tragedy of a massive hurricane, and a bunch of other mishaps, and we get to where we are today.
What about AR?
Will augmented reality and those fancy-pants rumored Apple glasses revive the field, or will they be something completely different? It's early to say, but one thing seems certain: mobile VR is dead, and that's probably not a big loss.