Mobile TV & video revenue to more than double to $9.5B by 2017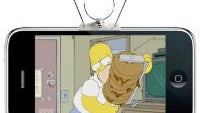 We all know that mobile is huge, and continuing to grow. More often than not, we focus on smartphones, and the market penetration that they are achieving; but, it's always good to keep in mind all of the services that run through our mobile devices, like TV and video. Well, Juniper Research has done some studying, and found that not only is mobile TV and video big business right now, but it will more than double in the next 4 years.
According to Juniper, mobile TV and video services are on track to earn $4.5 billion in revenue this year; but, that number is expected to grow quite a bit and hit $9.5 billion by 2017. A lot of the growth is actually attributed to the maturation of mobile platforms and the video services available, including subscription services and pay-per-title content. This is a bit surprising, because many would think that the growth would be more attributable to the maturation of high-speed mobile connections. But, instead Juniper is finding that carriers will look for more and more ways to offload usage to WiFi.
North America, Western Europe, and the Far East & China are the top three regions for mobile TV and video. Those three regions are expected to account for 80% of the total revenue for video services.