Mobiado's 105 Damascus brings luxury and style, but little function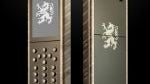 Mobiado has released a new entry to their ultra-luxurious 105 line of
candybar
phones. The 105 Damascus is made of forged Damascus steel, and features a matching sand-blasted steel keypad, and industrial-looking steel screws. A Vietnamese site,
MaiNguyen
, gives us a glimpse of its unboxing below.
While we're impressed by the look of the device, we certainly aren't inspired to spend any large amount of money on a basic feature phone. At $4,500, this inexplicably expensive phone is closer to a piece of
jewelry
than it is to a cell phone. It also makes the thought of buying an
iPhone 4
for every family member sound like a relative bargain (did you hear that, parents?).
Its technical specs are disappointing, sporting a 2 megapixel camera (i.e. the bare minimum), a 2-inch display, "More than 1GB" of internal memory, and only 3.5 hours of talk-time. If this weren't so beautiful, it wouldn't have been on our radar at all.
It's too bad we can't just load another, more competent, device into the 105 Damascus. With a sapphire crystal and Swedish-made steel body, this is one good-looking accessory. Unfortunately, anyone aware of current mobile technology might feel cheated to pay $4,500 for a piece of eye-candy with aging technology.
source:
Mobiado
via
Engadget
Recommended Stories