Misek: Apple takes advantage of Samsung Galaxy S4's inability to meet internal sales estimates
12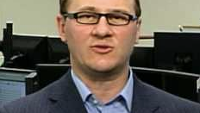 Jefferies analyst Peter Misek says that Samsung is having problems reaching its internal projections for
Samsung Galaxy S4
sales. According to the Wall Street analyst, Apple is the beneficiary because had sales of the Galaxy S4 hit the Korean manufacturer's target, Samsung would have raised its foundry prices to Apple. Misek has become a bull on Apple, but that doesn't mean you should run out and buy the stock. Earlier this year, just before the
BlackBerry Z10
launched,
Misek was bullish on the Canadian manufacturer when the stock was over $15 a share
, about double what the stock is trading at now. Not a good call.
Part of the reason for Misek's bullishness on Apple is the Cupertino based company's ability to source parts at favorable prices. That allows Apple to increase profit margins. Meanwhile, Samsung says that the high end of the smartphone market is being over saturated leading to slowing Samsung Galaxy S4 sales. Despite the loss of momentum for Samsung at the high end of the market,
the company still expects to report record earnings thanks to strong chip sales
.
Misek told his clients on Monday, "
Galaxy S4 sales missed internal targets leading Samsung to not raise foundry prices for Apple like we expected
." So for Samsung, lower than planned sales of the Samsung Galaxy S4 not only hurt Samsung's P/L sheet, it also helped Apple continue to get favorable prices from Samsung for chips. And the cycle continues as the low chip prices allow Apple to sell its new smartphones and come away with a higher profit margin. The only way to reverse this circle to allow Samsung to raise its foundry prices to Apple would be if Samsung Galaxy S4 sales start moving back higher to Samsung's projections. Unfortunately for the Korean OEM, in this business once a model starts fading out, it is very rare to get the ship righted even with a price cut.
source:
BusinessInsider
via
BGR