Minuum shows off its keyboard on Google Glass and beyond
6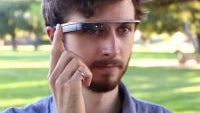 The Minuum team has always tried to push the idea that its alternative keyboard is not just designed for the current set of mobile devices but also for whatever new form factors come about. Today, Minuum is showing off its plans for what its keyboard would look like for Google Glass users.
The video is pretty quick, but it does give a good look at what the team plans. Unfortunately, we're very hesitant about the initial idea for the app. Basically, the idea is to use the touchpad on the side of Glass as the input surface. Assuming you're forced to input text on your Glass rather than simply doing it on a smartphone, this doesn't seem like the best solution. Voice input is still the primary choice.
Even in the video that Minuum released shows an input method that would work better than touch typing on Glass: eye-tracking. Towards the end of the video, Minuum shows that it is already planning input that would follow your eyes, so you would input words just by looking at each character. That seems like a nice subtle alternative for text input on Glass.