Ming Chi-Kuo: Apple to release stylus at the same time it launches the 12.9-inch Apple iPad Pro
36
Ming Chi-Kuo, one of the most connected Apple analysts around, hangs his abacus at KGI Securities. In the past, he has been pretty accurate with his predictions pertaining to the Apple iPhone and Apple iPad. Based on
a number of stylus related patents applied for by Apple
, and his own research, Kuo is telling clients that Apple will release a stylus during the second quarter of this year, to work with the 12.9-inch Apple iPad Pro.
If true, Steve Jobs might be spinning like a dreidel in his grave right now. Who could forget his comments about a stylus when the OG Apple iPhone was introduced in January 2007. "
Who wants a stylus? You have to get them and put them away and you lose them. Yuck. Nobody wants a stylus
."
But in his report, Kuo says that the stylus is more precise than a person's fingers and is more convenient than using a mouse or a keyboard. The analyst sees the stylus being offered as an optional accessory since most people won't need it to use the slate. Kuo says that another reason to make it optional is the expected high price of the iPad Pro if bundled with the accessory.
Kuo doesn't see Apple stuffing any special features into the stylus, a least not right now. He sees future models coming with a gyroscope that would allow users to "write on air." The analyst also expects the Stylus to use a Lightning connector to charge. Overall, he sees Apple shipping 2 million to 2.5 million units and says that the stylus might help Apple sell the iPad Pro in the corporate and education sectors.
"We don't foresee significant sales of an optional stylus in 2015 and forecast unit shipments of 2-2.5 million. But we believe that the stylus could improve the experience of users, however, and will likely help Apple develop specific customer groups such as the corporate sector and educational institutions."-Ming Chi-Kuo, analyst, KGI Securities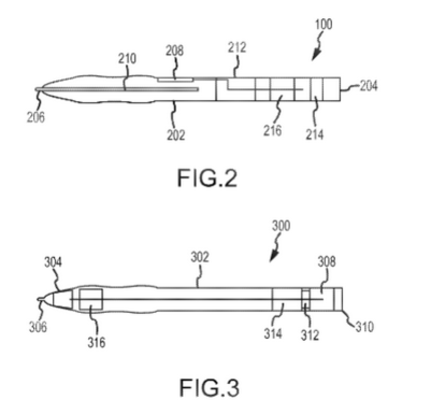 Last month, Apple received a patent for this stylus, one of many stylus patents filed by the company
source:
AppleInsider