Millions of Gmail accounts hit the black market; is your email safe?
31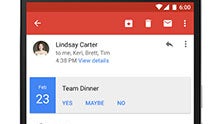 Losing access to your primary email account can be
one of the biggest headaches
a smartphone user ever has to deal with. How many other accounts are all tied back to that same email address? And if your email is compromised, does that mean those dozens upon dozens of other accounts could all be in danger, too? Those are the grim questions millions of users are asking themselves today, as word arrives of a massive trove of stolen email accounts being passed around underground circles.
All told, some 272.3 million email accounts have been compromised.
The good news, at least for many of us, is that the biggest fraction of those stolen accounts are for Russia's Mail.ru service. But while those make up the single-largest contribution to this collection, there are plenty of other big-name email providers involved here, and the presence of those accounts might be a lot more concerning to you.
Around 24 million Gmail accounts have been implicated in this breach, as well as 12 million Microsoft accounts and 40 million
Yahoo Mail accounts
.
We haven't yet seen any way to verify if
your
email address is among those exposed here, but if you're feeling concerned, there's no reason why you can't take action for yourself. Beyond changing your password (which you should probably be doing regularly anyway), it's as good a time as any to set up
two-factor authentication
, adding an extra layer of protection to your account. Get on top of things now and you can do you part to stay ahead of the next breach.
source:
Reuters