Mike Lazaridis buys $50 million more RIM shares
9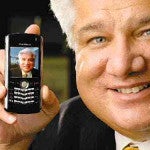 Saying that he has confidence that he and Jim Balsillie have left RIM "moving in the right direction," the former co-CEO of the Canadian based manufacturer said that he
purchased $50 million more of RIM stock
. At Friday's closing price of $16.80, that would work out to just under 3 million shares, which of course is just an estimate. Lazaridis is pouring more money into the company he founded in 1984 with high-school pal Doug Fregin in a tiny 500-square-foot office on the top floor of a strip mall. Today, RIM is a worldwide name with more than 17,000 employees.
In an interview with
The Record,
Lazaridis points out that RIM has a solid balance sheet with $1.5 billion in capital, 75 million users around the globe and is raking in more than $5 billion per quarter. The executive said about RIM, "
This is a strong organization with a strong global brand, an iconic product and a strong future
.
I love the company. I love these employees. They are my extended family.
" With 27 years at RIM under his belt, Lazaridis
remains vice-chairman of the board
and chairman of the board's new Innovation Committee.
What does the old CEO say about the new one? Lazaridis has nothing but praise for Thorsten Heins, saying that he is sure that Heins will take RIM to new heights. As we recently reported, the new CEO has been doing things that Lazaridis and Balsillie failed to do during their time in the office such as
testing competitor's models
. Heins also has gone out of his way to speak to the BlackBerry community through interviews with BlackBerry centric sites like
Crackberry
. And while leaving a company that he helped found is difficult, Lazaridis pointed out that every company run by its founders reaches a certain point and then must have a change in leadership. "
Founder-based companies, if they are successful, they get to this point," he said.
With $50 million more of his money invested in the stock, Lazaridis adds to his position as a major stockholder of RIM and part of his fortune is still tied up with the company even if he isn't, after 27 years.
source:
TheRecord
via
Crackberry