Might the Samsung Galaxy S III and Note II pass Android 4.2.2 by and jump right to 4.3?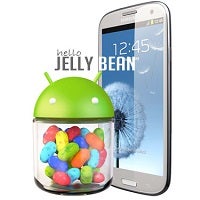 While we will take this rumor with a grain of salt, it is worth mentioning because it actually makes sense. If this roadmap does turn out to be correct,
we can thank the Google Play Edition of the Galaxy S4 for being in the mix
.
Tips from Samsung R&D in India are indicating that Android 4.3 update preparations for the
Galaxy S III
,
Note II
and particularly the
Galaxy S4
are making the
4.2
.2 update redundant. Since the Google Play S4 will be the first to get Android 4.3, it stands to reason that concentrating efforts to do the same for the rest of the line would be worthwhile.
Is there a trade off? Perhaps. It might mean that Galaxy S III and Note II users will have to wait longer for any update at all. However, the update should be somewhat at the same time as when the Galaxy S4 gets the nod to receive the Android 4.3 as well. Of course,
test builds of 4.2.2 for the Galaxy S III have already leaked
, but
we have also seen reports that the 4.2.2 update has been delayed due to TouchWhiz
.
Assuming that this new TouchWhiz will also be in place with Android 4.3, there is even another bit of innuendo to add to the mix about having these devices leap-frog to 4.3. It is expected that the Galaxy S III, Note II and obviously both versions of the S4 will get Android 5.0. While that whole conversation is all speculation right now, it stands to reason to develop the update from a common denominator, that is 4.3, across the board for Samsung's most popular devices.
FEATURED VIDEO
What do you make of the idea and the rumor? Any SGS3, and Note II users that would be okay with the wait and just jump to Android 4.3 so that everything is closer to the next generational update to Android 5.0 presumably later in 2014?
source:
Tamefy.com