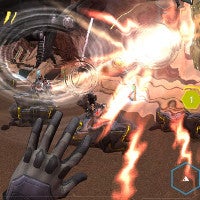 Going in and out of the various gaming booths at PAX East 2014, it's quite obvious that mobile gaming is still having some trouble penetrating the hardcore gaming market. Everyone is solidly set on traditional gaming consoles and the PC, but there's one company that's doing something clever to entice these serious gamers. Unlike the horde of mobile puzzle games in abundance during PAX East, video game developer Industrial Toys seems to have a gem with its sci-fi shooter Midnight Star.
Before we talk about the game, let us say that we were instantly attracted to the game for its astounding graphics and visuals – it's a cut above the rest in the mobile space. To be more exact, this game utilizes the power of the Unreal Engine 3 to deliver its eye candy. Best of all, the game performed smoothly during our brief time checking it out at Industrial Toys' booth.
Okay, we'll get back to the graphics soon, we promise. As for the story, the player is put in charge of 2nd Lt. Charles Campbell of the MSRV-17 Joplin, where you traverse through a strange alien environment. Along the way, you'll find clues from your support crew, you'll use them and the arsenal of weapons in the game to defeat the onslaught of alien beings trying to attack you.
The gameplay is a mix of various gestures and touch control to help our fellow character advance through the game. Now, we should point that we don't have complete control in navigating him, but rather, it's almost like a rail style game where we use all of the touch controls to aim, shoot, and interact with the environment. Quite frankly, it's done well, as pinch gestures and others are used extensively to keep the action interesting – and it also helps when the action is paced thoroughly.
The majority of gaming titles have subdued graphics, but this one really shines with its pristine and meticulous visuals. In fact, it's one of the few titles during PAX East 2014 that we saw really pushing the envelope with the visuals. Right now, it's planned to be released on the iPad by this summer, but they anticipate having it on Android as well afterwards. You don't want to miss out on the action and graphics in the game, so check out our quick hands-on video of the game!