Mid-range HTC Desire 400 quietly unveiled in parts of Europe
14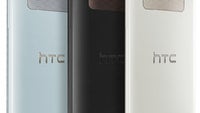 The HTC Desire 400 is a new Android smartphone that quietly appeared online this weekend. It is now listed on HTC's web sites for Russia and Ukraine – the countries where the handset is going to launch first, we assume. What we have on our hands is a mid-range smartphone with dual-SIM functionality. Its hardware specifications, however, are a bit of a riddle that we somehow have to solve. Why is that? Well, for some reason, the aforementioned web pages where the HTC Desire 400 is showcased are giving us conflicting information regarding the phone's specs.
According to HTC Ukraine, the HTC Desire 400 comes with a 1GHz dual-core Snapdragon processor and a 5MP "Ultrapixel" camera while HTC Russia has the smartphone listed with a 1.2GHz quad-core Snapdragon 200 chip and an 8MP camera. (For the record, we have our doubts about the Ultrapixel part.) We must also mention that HTC Sense 5 with Blinkfeed is present on the device, according to both web pages, even though the phone's images clearly indicate otherwise.
Still, there are specs that both HTC Ukraine and HTC Russia agree on – the HTC Desire 400 should come with a 4.3-inch 800x480 pixel display, 1GB of RAM, 4GB of storage expandable via microSD cards, and a 1800mAh battery. Interestingly, there appears to be Beats Audio support on the smartphone even though
Beats recently purchased back HTC's stake in the company
.
So what really happened here? Why is this mismatch of hardware specs between the two web pages? Well, there might be two different versions of the HTC Desire 400, but we doubt that's the case. We have a feeling that someone on HTC Russia accidentally posted the specs for the HTC Desire 500 where those for the Desire 400 were supposed to go. We'll get in touch with HTC and see if they can clarify things for us.
UPDATE:
We've received a response from HTC. The correct specs for the Desire 400 are listed on HTC Ukraine's site: dual-core Snapdragon at 1GHz, 5MP camera, 4.3-inch 800x480 pixel display, and Android Jelly Bean with Sense 5 on top.