Microsoft's revamps its OneDrive beta for Android with Material Design, does it surprisingly well
21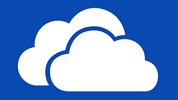 Microsoft is certainly not a stranger to Android apps - as we've told you numerous times before, Redmond looks pretty poised to keep its application portfolio for Google's platform refreshed, polished, and as competitive as possible. OneDrive is one of these apps, for sure.
In order to remain competitive on the dynamic market for cloud services, Microsoft has ostensibly decided to be on the edge and the recent visual revamp of that app is a definite proof.
In particular, the beta version of the OneDrive Android app (version 2.9.6) has just received a Material Design overhaul, which suggests that the official version of the app might eventually receive it. What's striking is how well has Microsoft implemented the Material Design guidelines in the app; it looks somewhat more "Google-ish" than a few of the search giant's own Android apps, for example. We are totally looking for this visual makeover to make its way to the "flagship" OneDrive app.
Interestingly enough, you don't need to join a developers' Google+ group or something of the ilk in order to make use of the app: you're only required to download it manually and install it afterwards. You can do so by visiting the source link.