Microsoft's Windows Phone revenue "abysmal," $613 million at best
25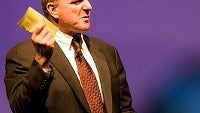 Microsoft's annual report for the company's fiscal 2011 reveals more than what is on the surface – an interesting tidbit about Windows Phone revenue seems to be hiding under the Entertainment and Devices Division section. With a total of $8.716 billion and a reported revenue from Xbox 360 alone standing at $8.103 billion, the biggest Windows Phone revenue one could end up with by a simple subtraction is the
"abysmal" $613 million
, Seattle Pi concluded.
This would put Zune, Mediaroom, Surface and hardware revenue at close to zero, which – of course – seems unlikely, so chances are that the final sum is even lower for WP. In addition, we also have to count the fact that Redmond's fiscal year starts in mid-2010, a time when Windows Mobile was the only platform available from Microsoft, so a big part of that should come from Microsoft's older mobile OS. Bottom line is that possibly the final sum is
much lower
than the $613 million maximum – a result which confirms Microsoft's own Steve Ballmer's words about WP market share which "has gone from very small to very small."
At the same time, though, reports showed that
customer satisfaction
from the platform was on par with other contemporary operating systems like iOS and Android. Windows Phone got 57% consumer satisfaction, slightly less than the iPhone's 70%, but even more than Android which conquered 50% of users' hearts.
While that confirms what we've previously heard about the slow start of the platform, we wouldn't blow this out of proportion – Microsoft has pretty good outlook with the first
Nokia Windows Phone
devices coming later in the year, and Skype in its portfolio. Will this be enough to put the platform on track with iOS/Android which are far ahead in the smartphone race? Only time will tell, but you can also share your opinion in the comments below.