Microsoft unveils three new 'Portable Dual' battery packs, prices start at $35
9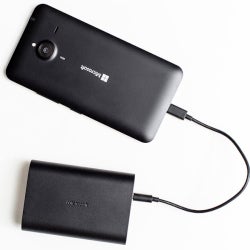 Microsoft has just unveiled three new portable battery packs. The new mobile chargers are part of a new line-up of Microsoft accessories called Portable Dual, and, as their name suggests, they can charge two mobile devices at the same time.
Depending on the model, Microsoft's Portable Dual chargers come with 5200mAh, 9000mAh, or 12000mAh batteries. The smallest of the bunch will be priced at $35, the 9000mAh charger will cost $45, while the 12000mAh one will set you back $55.
The company says that the battery packs will hold their charge for long periods of time if not used, and a fully-charged bank will only go down to 80% charged after three months of idle storage. The new chargers also come with LED indicators that tell how much juice is left inside the charger.
If you need to charge the Microsoft Portable Dual, the charger also comes with a "daisy chain" feature that allows you to charge both the battery pack and a second mobile device at the same time. Just connect the charger to a wall plug, plug your smartphone in one of the two USB slots, and you're set to go.
Back in October 2014,
Microsoft launched a 6000mAh battery pack
, one that is priced at $49. The new 5200mAh battery pack might come with a slightly smaller battery, but it can charge two devices at the same time, and it also costs only $35.
The new power banks from Microsoft will launch in the upcoming weeks in 'select markets' across the world.