Microsoft unveils a portable charger with a 6000mAh battery inside
15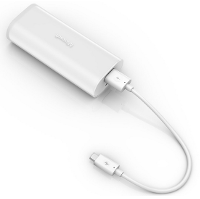 Launching some time this month is the Microsoft DC-21 portable charger, also known as the Microsoft Portable Power. Loaded up with a 6000mAh battery, you have in your hand an accessory with more than twice the capacity of the average smartphone cell. Besides having long-lasting battery power, Microsoft's portable charger also is snappy. It will recharge your phone just as fast as Microsoft's quickest wall charger can. It takes three hours to get your phone 80% charged, and 4 hours to fully recharge your handset.
Because of its long stand-by time, you can carry it in your briefcase or purse for 6 months and still have 80% of the power at your beck and call if you need it. To use the DC-21, you simply connect a USB-A charging cable to the device and the phone. Because the USB interface is so widely used, you should be able to use this accessory to charge your Windows Phone, Android phone and other devices as well. Recharging the Portable Power requires you to add a prong to the cable. Simply plug in it to a wall outlet, and the accessory starts recharging. You can also recharge your handset at the same time, although the phone gets the bulk of the battery power.
The Microsoft Portable Power is priced at $49 and will be available in white, bright green and bright orange when it launches before the end of the month. For those power users out there, this could be the most indispensable tool in your arsenal after your phone.
source: Microsoft via
WPCentral