Microsoft plans Windows-based tablets onslaught, including the Samsung Gloria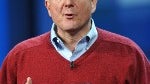 What is there to do when analysts are predicting your demise, due to the late response to the tablet craze and cloud-based services, but you are still one of the most profitable companies in tech. Well, respond, any way you can. Windows Phone 7 was more than a decent response to the advent of iOS and Android, and now Microsoft is planning to
step it up on the tablet front
as well.
It seems that the Redmond giant will be announcing a whole portfolio of Windows tablets from various manufacturers, come
CES 2011 in January
. Both Bill Gates and Steve Ballmer have taken the stage there numerous times to announce pivotal developments for Microsoft, so that's not the surprising part. Even the fact the Ballmer is supposed to demo Windows 8 with its innovative 3D interface concept on a tablet at the show, was to be expected.
What caught us off-guard, though, is that the reputable source confirms the existence of a Samsung tablet with a
physical slide-out QWERTY keyboard
. We
saw this one
mentioned on a French laptop blog the other day, and there was even an artist's render of the device, dubbed
Samsung Gloria
. We immediately filed it on the "we'll believe it when we see it" shelf, but a second independent mention meas the Windows tablet with the keyboard might exist after all. The devices is said to be slightly thicker than the iPad, but otherwise of similar size, so the 10" screen is all but confirmed, and we are waiting with baited breath to see what Samsung will offer that you can't find on a netbook.
All slates are supposedly showing the tablet version of Windows 7, when in landscape mode, but when you turn them in portrait, a new "layered" interface appears. Hopefully this will remedy the fact that the Windows interface wasn't meant for tablets at least a little bit, but still there are the issues with the Windows/Intel combo usually knocking down the battery in two hours flat on tablet devices. Intel is
debuting its Oak Trail platform
soon, but we doubt there will be a huge improvement in battery life, which would make people leave their iOS or Android ARM-based tablets for a Windows experience that won't even survive watching the "The Da Vinci Code". Still, we are all for choices.
"The company believes there is a huge market for business people who want to enjoy a slate for reading newspapers and magazines and then work on Microsoft Word, Excel or PowerPoint... ", said one of the sources. How's that not possible on an iPad or a Samsung Galaxy Tab, we'd ask. Microsoft is also encouraging developers to build apps in HTML5 for the slates, which will be accessible via a search interface. 2011 is indeed shaping up to be the year of the tablet.
source:
NYT