Microsoft to merge Windows RT into Windows Blue?
22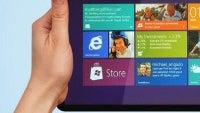 Microsoft might no longer launch Windows RT devices and will merge the operating system and devices with it in the huge new overhaul to Windows, Windows Blue, according to DigiTimes' supply sources in Taiwan.
Windows RT is the name Microsoft uses for its ARM-based devices. Windows RT comes with the same modern interface like Windows 8, but unlike it, it does not support legacy Windows applications. It also suffers from compatibility issues.
There is still no official confirmation on these Windows RT news from Microsoft, and we don't really expect the company to say something earlier than the Microsoft Build Developer Conference 2013. It will take place in San Francisco from June 26th to 28th. So take this with a grain of salt for the time being.
What's notable is that DigiTimes also expects Windows-based Intel device sales to drop significantly in the period before the launch of Intel's fourth-generation Core chips, Haswell. The first Haswell computers are expected to arrive around June.
source:
DigiTimes