Microsoft to manufacture its own smartphone?
3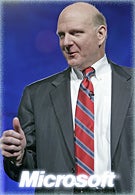 Okay, now this is a spicy one – according to some rumors, Apple will soon have to face some serious competition in the face of its notorious rival, Microsoft. A research, conducted by Broadpoint AmTech, has arrived at a conclusion that the developer is working to release its own smartphone to the market. The analysts Mark McKechnie and Rob Sandserson cite "multiple industry sources", and claim that the product will be released sometime during the second half of this year. The idea behind this project is obviously an attempt for a closer integration between software (the Windows Mobile platform) and hardware.
Probably, most of you are already wondering which will be the version of the operating system that the device is going to run. Having in mind that WM7 is expected to see the light of day no sooner than April, 2010, we can draw the conclusion that the phone will possibly run the 6.5 version. That is, of course, if Microsoft is to deliver it to the market according to schedule. It is said that the platform will utilize elements of the Zune interface , but in a more touch-friendly manner. Other details are very scarce, but we can still point out that NVIDIA's Tegra chipset is rumored to be integrated in order to provide some advanced 3D and HD video support.
All this sounds really interesting, but still, keep in mind that Steve Ballmer and some other Microsoft officials are still maintaining the position that their company would prefer to license the Windows Mobile operating system to more established smartphone manufacturers. However, our advice is to consider everything possible. After all, we're talking about Microsoft here.
source:
electronista