Microsoft: the Lumia 950 will launch as an AT&T exclusive despite interest from other carriers
51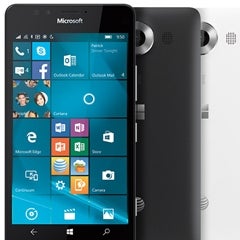 Last week, Microsoft announced its first flagship smartphones for quite a while now, the Windows 10 Mobile-based
Lumia 950
and
Lumia 950 XL
. Although Microsoft did manage to draw
some
initial interest from potential customers in the US, the company will intentionally limit the availability of its phones in the US.
Just a few hours after Microsoft's event ended, AT&T announced that it will
sell the Microsoft Lumia 950 through its channels
, with the announcement failing to mention any details about a possible exclusivity. As days passed, what followed was a mixture of reports, rumors, and unofficial statements from Microsoft executives regarding a possible exclusivity arrangement.
A few days ago, CNET reported that the Microsoft Lumia 950 will be an AT&T exclusive as no other major carrier in the US has shown interest in the smartphone. T-Mobile CEO John Legere was quick to react to this report and
raged on Twitter
about how the Magenta carrier did not refuse to carry the new Lumia flagships, but that Microsoft simply offered it to AT&T as an exclusive. Hours later, CNET updated the original report to state that
the Lumia 950 will not be an AT&T exclusive
, but did so without providing any explanations.
If all of this leaves you deeply confused, there's no need to worry, we all are. Fortunately, Microsoft recently responded to an inquiry from Venture Beat, partially clarifying the matter. Here's Microsoft's statement:
We're refocusing our channel strategy, narrowing it in the short-term and planning for broader operator availability long-term. [...] While there was interest across the board from U.S. operators, currently we've made the decision to have AT&T carry the Lumia 950, and then sell both the Lumia 950 and Lumia 950 XL unlocked through our own channel in Microsoft stores. In Europe, Deutsche Telekom will carry the Lumia 950 and Lumia 950 XL, and we'll have more to share about other carriers shortly.
What this means is that the Lumia 950 will be carried exclusively by AT&T at launch, and that broader availability will probably follow at some point in the future. One interesting detail to note is that AT&T did not mention the Lumia 950 XL in its announcement, which probably means that the carrier will only offer the smaller Lumia 950.
Although AT&T did strike some luck in the past through its exclusivity deals (hello pre-2012 iPhones), its recent exclusivity deals translated into flops for the manufacturers. Examples of such failures are the
Amazon Fire Phone
and the
HTC First
"Facebook Phone".

Fortunately for any T-Mobile subscriber who has fallen in love with the new Lumia 950, you don't have to wait it out for the companies to kiss and make up. Microsoft will sell both the Lumia 950 and the Lumia 950 XL unlocked from its online store, and these phones will be compatible with both AT&T's and T-Mobile's networks. If you're on Verizon or Sprint, you're completely out of luck for the moment.
What do you guys think? Would you get the Lumia 950 or the Lumia 950 XL on Verizon or Sprint if given the opportunity?