Canada's main carriers aren't interested in the Lumia 950 duo, but T-Mobile U.S. might be
16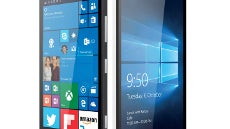 As we sober up from the big unveiling of the
Lumia 950
and
950 XL
, it appears that both will be playing hard to get. Although
not exclusive to AT&T
, it doesn't seem as though the major U.S. network operators are chomping at the bit to carry the devices, and in Canada, the story is even less enthusiastic. According to a new report by the folks at
MobileSyrup,
no Canadian carriers intend to sell the Lumia 950 or the XL edition, so the only option for buyers will be to purchase outright, directly from Microsoft.
It has been, in mobile terms, an age since Windows Phone / Windows 10 Mobile has spawned a flagship to contend with the rest of the industry. For most of this year, Redmond's plans have generated a fair amount of buzz, but the apparent lack of carrier interest has put a bit of a dampener on proceedings.
Those in Canada will still be able to grab the Lumia 950 and 950 XL through Microsoft Stores and its ecommerce channels, at a respective cost of $749 and $849 Canadian. The MobileSyrup report cites all of the big names in its assertion, having been in contact with the likes of Rogers, Bell and Telus.
Those Stateside looking for an alternative to AT&T might find some solace in T-Mobile, with the firm's charismatic CEO John Legere having tweeted that he's open to offers from the Windows maker. With T-Mo's growing popularity and flexible packages, the news will encourage those interested in picking up a new Lumia through the carrier. Having said that, Legere
has previous for trolling
big companies on Twitter, so it remains to be seen whether his latest musings will bear any fruit.
Whether it's purely a case of carrier apathy or Microsoft not putting in enough of an effort, we can't say for sure. But given the mammoth game of catch-up that Microsoft is playing with Android and iOS for market share, the hunger and urgency that one might expect in this situation does appear to be short of the mark.
Will you still be grabbing a Lumia 950 smartphone, even if you have to pony up the full cost of the handset? Let us know in the comments.
Recommended Stories