Microsoft starts rolling out NoDo update for Windows Phone 7 devices
7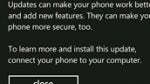 The
NoDo
update for Windows Phone 7 is officially here and brings a number of minor yet important changes to Microsoft's mobile operating system. Shortly after the complete list of improvements was added to the Windows Update page, the update itself was made available for download – we have been expecting it for quite some time so it better be worth the wait.
Updating your smartphone should be pretty straightforward – hook your device up to a PC running Zune and if you get an update notification on your screen, be sure that you are good to go. Since the update process backs up the phone's contents onto your computer, it is a good idea to check whether you have enough disk space or not, but even if you do not the system should let you know in advance.
Even though the
NoDo
update is not going to be as major as the future
Mango
update, it should still make your WP7-powered smartphone a bit more versatile. Since so many users were complaining about its lack, copy/paste functionality was finally added to the platform's interface. Other enhancements include faster program loading times, Facebook integration, and resolved stability issues.
Unfortunately, there is a sad part to this news. It seems like at this time only smartphones that have not been carrier-locked are able to install
NoDo
. Those of you who have purchased their WP7 smartphone through a carrier may have to wait days or even weeks before being allowed to download the update. Nevertheless, nothing stops you from giving it a try, and if you happen to succeed don't forget to let us know by leaving a comment below.
source:
WMPoweruser