Funny: Microsoft is now selling more Android phones than Windows ones
17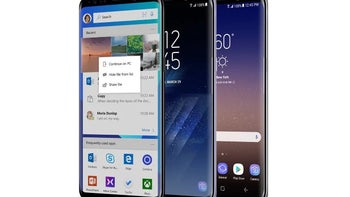 While casually browsing Microsoft's official website to see if there's anything new with the company, we noticed something funny (though also kind of sad): Microsoft's online store is now home to more Android phones than Windows-based ones.
Here's what Android smartphones you can currently buy from Microsoft in the US: Samsung Galaxy S8 (seen above), Samsung Galaxy S8+, Samsung Galaxy Note 8, and the interesting
Razer Phone
. When it comes to Windows smartphones, only two models remain available:
HP Elite x3
, and
Alcatel Idol 4S
(both originally released in late 2016, and now heavily discounted - to $599 and $199, respectively).
Of course, we already knew that Windows Mobile was pretty much dead. Back in October, Joe Belfiore, Corporate Vice President at Microsoft's Operating Systems Group, made it clear that the company
would no longer focus on Windows Mobile
-related software and hardware. This means third-party manufacturers also have no reason to invest time and resources into the platform.
Instead of focusing on Windows Mobile, Microsoft is hard at work enhancing and expanding its software portfolio for Android and iOS. Microsoft develops many popular apps for these two leading platforms, from Office tools to the well received
Microsoft Launcher
, which the company recommends you install on the Android handsets it's selling. In a way, Microsoft is already
inside your phone
, and it doesn't really need to deal with the low number of users who might still be interested in Windows Mobile.
The (maybe inevitable) fact that Microsoft is now offering more Android smartphones than Windows ones seems to be the company's silent way of saying: We tried, we failed, we're moving on.