Microsoft says Surface Pro 3 is selling faster than previous models
20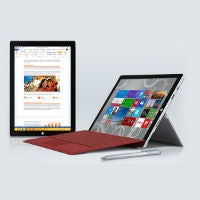 When Microsoft announced its
quarterly earnings
yesterday, the company mentioned that the Surface division had brought in $409 million in revenue for the quarter, which was certainly an impressive number. But, it turns out the Surface Pro 3 is doing even better than we first thought, and is already selling at a faster pace than previous Surface Pro devices.
Microsoft Chief Financial Officer Amy Hood didn't give more specific numbers, or even the breakdown in how much of the $409 million is thanks to the Surface Pro 3. But, she did say that, "While it's still early, sales are outpacing earlier versions of Surface Pro." This is definitely good news for Microsoft, although, to be fair, selling better than the first generation Surface tablet wasn't the most difficult of tasks. Still, it is an upward trend for Microsoft, which started slowly with the original Surface Pro (and
bombed
with the first Surface RT), got better with the Surface Pro 2, and has garnered quite a lot of positive buzz (and obviously sales) with the Surface Pro 3.
It seems like Microsoft is finally hitting its stride as a hardware company, and there are reasons to be optimistic that the next version of Windows will clear up many of the issues users have had. The Windows platform will
converge into one OS
, apps are becoming
universal
, and rumors have it that
Metro is dying
on desktops. It's hard to say what the future holds for Windows Phone, but Windows is certainly making moves in the laptop/tablet hybrid market.