Microsoft says Cortana for Android will be released in July
17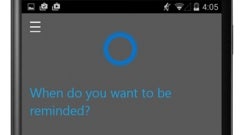 Last month, when Microsoft announced that
Cortana would be available
for Android and iOS users, it didn't say exactly when this would happen. Well, today Microsoft revealed that a beta version of Cortana for Android will be released next month, in July.
Cortana for Android will be a standalone app. It will not offer everything that Cortana for Windows Phone is offering (since it's not deeply integrated into Android), instead acting as a companion app for your Windows PC (assuming you have one). For example, you can ask Cortana on Android to remind you to do something at 10 PM, and, if at that time you're using another device with Cortana, you'll be reminded there.
Cortana is also coming to Xbox One, and, of course, it will be integrated into Windows 10 from day one (in case you didn't know, Windows 10 will be officially available
starting July 29
).
We recently conducted a poll to find out how people were feeling about Cortana coming to Android and iOS. It turned out that
most Android and iOS users are looking forward
to trying the app. This, of course, is great news for Microsoft.
source:
Microsoft
via
ZDNet