Microsoft produces video on getting work done using only a Windows Phone handset
19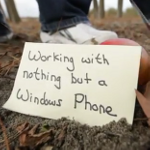 If you want to see just how work can get done in the middle of nowhere using
just a Windows Phone powered device
, check out the video below starring Microsoft's Doug Thomas. The video shows of many Windows Phone features including some that are unique to the platform such as
Live Tiles
, the
Me Tile
,
Pin To Start
and
Local Scout
. Other applications displayed in the video include
Groups
,
Facebook and Social Networking
,
Contact History
and
Voice Commands
.
The main focus of what appears to be part one of a multiple part story is that Mr. Thomas fell asleep during a group meeting and was transported to the middle of nowhere by his co-workers with nothing but a Windows Phone powered handset with him. First, the "Robust Opening Screen" allowed Thomas to know what time it was. He then sent a group email that acknowledged the prank. Using the "Live Tiles" allowed Mr. Thomas to spot a message about some pictures which he discovered were of him passed out at a meeting. Using "Contact History", "Voice Commands" and "Voice-To-Text", Thomas was able to request his calendar and then dictate and send. a text message. Using a couple of features unique to the platform, Doug called up "Local Scout" to find an Italian Restaurant in the area and then pinned walking directions to his Start screen.
Those with a Windows Phone handset probably would find nothing so earth shattering in the video, but for those who stare at an iOS, Android or BlackBerry OS screen all day, it is a chance to see how the others live. And in case the cliff hanger has you on the edge of your seat, part 2 will appear next week.
source:
Microsoft
via
WMPoweruser