Microsoft might withdraw from CES, to focus on self-run events like Apple
17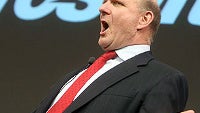 Apple
's success is evident recently, but unlike most other phone and PC makers, Cupertino is not participating in any of the major electronics shows like CES, MWC and CTIA. Now, we don't consider this as good practice but the company has definitely built a name for itself and its zealous army of followers, so it has the attention and can afford this. Now, it seems its biggest PC rival Microsoft has decided to start following that example. At least, that's what Mary Jo Foley of the Windows Weekly podcast got as an inside scoop.
Her source claims that 2012 will be the last year when Microsoft will have a big
presence at CES
with the traditional keynote served to the public by CEO Steve Ballmer. After that, Redmond is scaling back on public appearances at electronics shows and while the company will still be present on the show floor, its stand will be smaller and keynotes by the CEO are not going to happen. Now, we'd still take this with a grain of salt, but given Apple's relatively successful strategy we can see how this could be beneficial for Microsoft, which won't need to push products prematurely to match deadlines.
The new focus will be on self-run events and having its own schedule. Foley's source reportedly commented on the similarity with Apple by saying something like:
"This is the way Microsoft's going too."
Now, we're still hoping to see something exciting from Redmond this year at CES. Windows 8 is in the making and the platform has huge ambissions as it will be the first from the company to run on an ARM chip. Oh, and some will definitely miss Ballmer's artistic pitch. Are you one of them?