Microsoft may have sold as few as 230,000 Surface tablets
25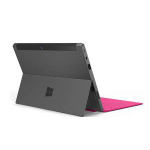 A couple weeks ago, we heard from UBS analyst Brent Thill that the Microsoft Surface tablet may not have sold as much as expected, so Thill cut his projection to just
1 million Surface tablets
sold in the fourth quarter of 2012. Unfortunately, that's not the end of the bad news for Microsoft, because another analyst is saying that the Surface tablet may have sold as few as 230,000 units.
Barron's
decided to aggregate some more analyst predictions about the Surface tablet sales, and found that Raymond James analyst Michael Turits agreed with Mr. Thill's 1 million unit estimate. Citigroup analyst Walter Pritchard wasn't as optimistic, and put the number between 700,000 and 800,000 Surface tablets sold, and Goldman Sachs analyst Heather Bellini brought in the lowest estimate by far, at 230,000 units.
Bellini came to this number by estimating that Microsoft had roughly $140 million in Surface tablet revenue, and "assuming they all sold with a keyboard and thus had an average price point of $580 would yield approximately 230,000 units." We're not too sure it's a good idea to assume that every Surface tablet sold with a keyboard, but even if no customers bought a keyboard, the sales total wouldn't get higher than 300,000 units according to Bellini's numbers.
The real question is what this all means. It undoubtedly sounds like the Surface tablet has been something of a bust, but it doesn't answer why the tablet hasn't sold well. It could be the price point, the lack of apps, the limitations of Windows RT compared to Windows 8, or it could have been in the hardware itself. We'll have to see numbers from Surface Pro tablets and other Windows tablets before we can sort it all out.