Microsoft looking to mobile patents for revenue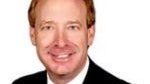 Microsoft's head counsel, Brad Smith, told reporters on Monday that Microsoft is looking to their
patents
to provide increased revenue. Microsoft is one of the largest owners of
smartphone patents
, and would stand to gain a great deal by increasing their patent agreements with manufacturers.
Although Smith didn't offer a specific amount that they hoped to gain from patent agreements, he did admit that it might outpace their revenue from Windows Phone 7 and Windows Mobile. "We'd still rather sell software...either way, it gives us an opportunity to recoup costs," said Smith.
Amid the rampant
litigation
between the mobile giants, civilized patent agreements sound far-fetched. Smith believes that the next couple of years should bring some stability to intellectual property in the mobile sector: "I think there is a good chance the industry will work through the patent issues over the next several years."
Smith specifically pointed out Microsoft's agreement with
HTC
: "By entering into an agreement with HTC, we effectively signaled we are open for business when it comes to licensing." Unfortunately, Microsoft's agreement with HTC came early in HTC's development. Such acquiescence to Microsoft's patent claims might be more difficult for long-established manufacturers.
While Smith was mostly optimistic about future patent revenues, he still admitted that there might be a need for litigation: "If we can't get a reasonable royalty then we will seek an injunction." Obviously, a successful OS is preferable to pursuing patent royalties, but we don't begrudge Microsoft for having a backup plan.
source:
Mobilized