Microsoft is still directly funding app developers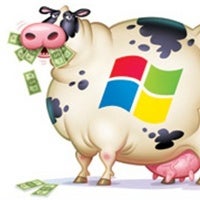 Microsoft might already have
over 80,000 applications
in the Windows Phone Marketplace, but when the number grows past a couple of tens of thousands, what starts to matter is not quantity, but quality. And for some of the must-have apps that could make or break a Windows Phone handset, Microsoft is still directly funding developers.
It could cost Redmond somewhere between $60,000 and $600,000 for some of the most popular apps out there. For example, Microsoft approached Foursquare and offered it funding to make its app available on Windows Phone. Foursquare business development head Holger Luedorf admits that if it wasn't for that incentive, the company would
"probably not"
have built a version of its app for the platform.
The Cheezburger Network, known for its entertaining websites, was approached by Microsoft to bring its funny pictures of cats on Windows Phone.
"They made it very easy for us. They took care of everything,"
Cheezburger Network CEO Ben Huh said.
And the list of developers and companies approached by Microsoft just goes on and on.
We are by no means satisfied with our catalog
"We are by no means satisfied with our catalog,"
senior WP marketing manager Casey McGee said.
"That's something we can get better at, and do better at, every day."
McGee didn't point out what's the exact incentives Redmond offers, but it's clear that unlike Apple and Google that don't pay developers, Microsoft needs to give that extra push in order to see its WP platform lift off.
The simple principle of going after the most audience is logically at work here. But interestingly, developers are starting to slowly show interest in the Windows Phone platform. It's been nearly a year and a half, and some dev firms report that a small number of companies approach them asking for apps on Microsoft's platform. We'll see how this works out, but having a third player in the mobile sphere should only benefit competition and what users get.